Need to merge two or more HubSpot accounts?

Or split a HubSpot account into two separate portals?

Whether you're moving your HubSpot data to a new account, merging multiple HubSpot portals, or spinning out a subset of your existing data into a new HubSpot account, Bayard Bradford gives you options for making the process smooth and painless.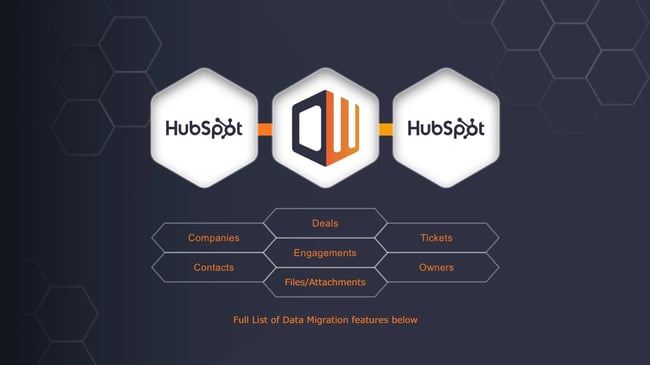 Option 1:

Automated HubSpot to HubSpot CRM data migration
Our self-service HubSpot to HubSpot Portal Migrator app migrates your CRM data with no field mapping required. No need to manually create properties in the destination portal. The app automatically takes care of everything required for moving your HubSpot data from one portal to another. Available in the HubSpot App Marketplace.
Option 2:
Concierge

HubSpot to HubSpot CRM Data Migration
Bayard Bradford will help you prepare for your migration and run the Portal Migration app for you. If your migration destination is a new HubSpot portal, our Concierge service comes with onboarding services included.

HubSpot CRM Data that is automatically migrated:
Contacts
Companies
Deals
Tickets
Custom Objects
Pipelines

Owners

Engagements (Meetings, Tasks, Notes, Calls, Emails)
Custom Properties for all Objects
Lists
Associations between all records
Line Items/Products

Files/Attachments
HubSpot CRM data that cannot be migrated due to HubSpot API limitations:
Marketing email campaign data

Historical web traffic data

Properties with the same name but a different type in each portal

Active lists that reference Forms

Calculated properties

Deactivated users that still own records
Option 3: Managed HubSpot Data and Digital Asset Migration
The Automated and Concierge services move HubSpot CRM data to another HubSpot portal as detailed above. In a Managed Migration, Bayard Bradford performs the entire migration process for you. If your migration destination is a new HubSpot portal, our Managed Migration service comes with onboarding services included.
Many HubSpot accounts have digital assets, workflows and settings that must be migrated to a new HubSpot portal. Our Managed Migration service handles items that must be migrated manually (or recreated) in the destination HubSpot portal:
Website pages
Landing pages
Thank you pages
Forms
Emails
Workflows
Blog posts
Lists
Campaigns
Email subscriptions
301 redirects
Sequences
Templates