European Union companies with HubSpot accounts currently hosted in the US:
Bayard Bradford can migrate your CRM data and digital assets to a new portal in HubSpot's EU Data Center
Bayard Bradford has successfully helped companies migrate their data to new EU portals using our Certified HubSpot to HubSpot Portal Migrator App from our HubSpot App group, Datawarehouse.io.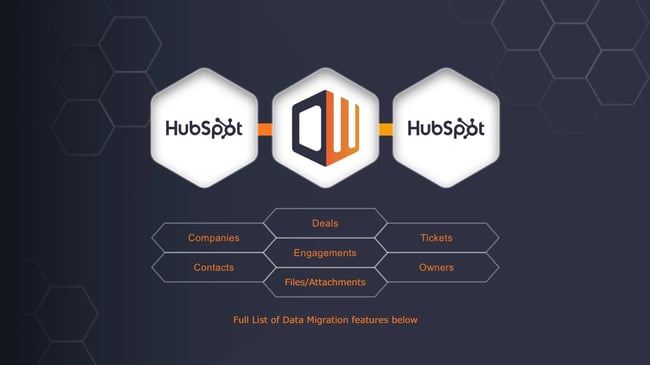 HubSpot EU Data Center Migration
An EU Data Center Migration requires purchasing a new HubSpot portal. Bayard Bradford will help you purchase the new portal and prepare for the migration. Our service includes technical onboarding and setup.

Step 1: HubSpot CRM Data that is automatically migrated:
Contacts
Companies
Deals
Pipelines

Owners

Engagements (Meetings, Tasks, Notes, Calls, Emails)
Custom Properties for all Objects
Lists
Tickets
Associations between all records
Line Items/Products

Files/Attachments
Step 2: Create Database Archive for HubSpot CRM data that cannot be migrated
Several types of data cannot be migrated because the HubSpot APIs do not provide access. For this critical historical data, we create a SQL Server database in Microsoft's Azure cloud (hosted in the EU). Reporting can be easily done on this data in combination with data from the new portal using Excel or Power BI.
Marketing email campaign data

Historical web traffic data

Properties with the same name but a different type in each portal

Active lists that reference Forms

Calculated properties

Deactivated users that still own records
Step 3: Digital Assets that cannot be migrated via the HubSpot APIs can be manually recreated.
Many HubSpot accounts have digital assets, workflows and settings that must be migrated to a new EU HubSpot portal. Our migration service handles items that must be migrated manually (or recreated) in the new EU destination portal:
All settings in the back end of HubSpot
Meeting links
All connected apps
Domains
Email integrations (O365 or Google)
Target accounts
Conversations inbox setup
Documents (under Sales)
Website pages
Landing pages
Thank you pages
Forms
Emails
Workflows
Blog posts
Lists
Campaigns
Email subscriptions
301 redirects
Sequences
Templates
Saved views
Page layout configurations (objects)